Yesterday I received the "Sonny hook".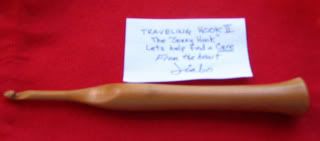 I am honored to be the first person to crochet a square in memory of some one very special.
This woman was the person that was my first example of true compassion. I remember falling while skating and she picked me up and set me rolling along again.From the time I was a young child, I wanted to grow up to be just like her. She was a foster parent for more than 40 years, giving love and understanding to more than 100 children along with three children of her own. She was my first Sunday school teacher and also the first Sunday school teacher for my children along with 100's of others. She was a wife, mother, a sister and a friend. She touched the lives of everyone she met and even those she will never have a chance to meet because of the lives she changed while she was alive. She taught me to believe in myself and to look for the good in everyone I meet. She was my Aunt Leona. She had a liver cancer and then a transplant and the cancer returned overtaking all of her body. She fought to live and to love. She lost her fight in January 2006.
I made a Circle of Friends square in her honor as she had a never-ending circle of friends. The circle of love will continue as long as her memory stays alive.
Thank you Aunt Leona for helping me become the compassionate, loving woman that I have become. Thank you for showing me how to be courageous even when life gives me the cherry pits instead of the cherry pie. You are with me every day and I will continue to try to be as honorable and courageous as you were.
I have other family members and friends that have been touched by cancer. I will make each of them a square when the hook returns to me at the end of it's travels. All of them are important to me but this one was what inspired me to do this project.
The hook is now on the way to Canada. The patina will grow with each square created with the love and compassion of each member. It will have a warmth from touching each of our hearts.